GREAT BENEFITS
are a good vibe
BENEFITS
and


COMPENSATION
Wealth
Competitive pay
Weekly pay schedule
Discounts at Bahama Breeze
Discounts at Darden sister restaurants
Darden gift card discounts
Wireless phone service
Computer loans and more
401(k) with match*
Employee Stock Purchase Plan*
*after 1 year (ages 21 and over)
Health
Medical, dental and vision
Vacation pay
Flexible spending accounts
Life, Home, Auto insurance options
Critical illness/accident, short-term disability
FREE Employee Assistance Program (DAYS)
More
Flexible work schedules
Fun and fast-paced environment
Many opportunities to grow

TRAINING
Our training teaches you how to live the 'Bahama Breeze Way' and deliver quality food with friendly, attentive, and personalized service.
Fun, extensive and self-driven training program with Certified Trainers
Flexible training shifts to fit all learning styles and needs
Easy and interactive online training system and videos to make learning engaging
Self-development for cross-training and hourly growth opportunities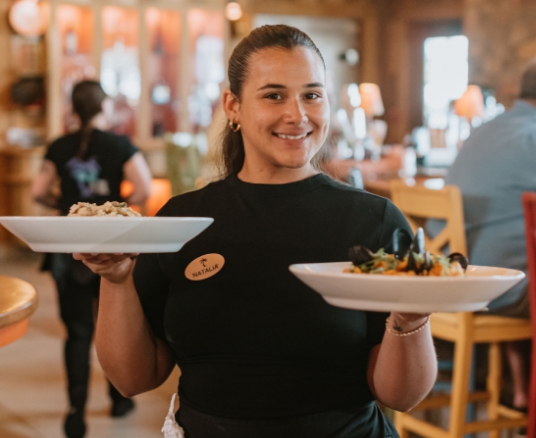 Train for any of these areas:
Training Team
New Restaurant Opening Trainer
Culinary Professional
Service Professional
Manager
Your Career Path
Director of Operations
General Manager
Restaurant Manager
New Restaurant Opening Trainer
Opening Professional
Certified Trainer
Service or Culinary Professional
Team Member
DID YOU KNOW?
More than 50%
of our Managers started as hourly Team Members.
99% of our GMs and Directors
are promoted from within.
We have 42 restaurants
with plans to open 3 more in the next year.